New Educational Advantage Products for 2023
3 March 2023 | Laura Manning
We are delighted to tell you that we have 5 brand new additions to our Educational Advantage range for 2023! We have everything covered; from artistic mosaic sets to mathematical counting blocks! Our ranges include wooden early years, maths, construction toys and science resources! With all of our wooden products being made from long-lasting FSC® materials. What more could you want? Why don't we take a look at these new resources in more detail? Keep reading below to find out more!
ZigZag Blocks Castle Set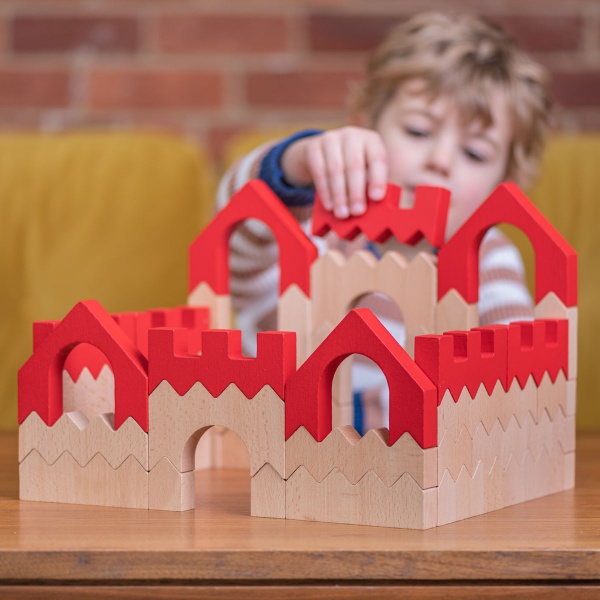 A fun addition to our original ZigZag blocks set.
Stack, build and create fantastic buildings and castles.
The pieces are chunky and easy to grip!
Promotes imagination, logical reasoning skills and pretend play; children will work out different ways to stack and build!
Wooden Mosaic Set
Create a mosaic!
Children will love to create their own mosaic, using 1 of 20 designs that are included in the set, or by designing their own patterns.
It helps to stimulate children's imagination, fine motor skills, logical reasoning skills, as well as colour and shape recognition.
3D Wooden Shapes
This resource is a must have for any educational environment which teaches children about geometry and 3D shapes.
Each shape is supplied in 4 different colours and is made of long-lasting FSC® certified Beech Wood, adding an extra layer of sensory experience to your open-ended play.
Wooden Counting Blocks
Ideal for teaching mathematical concepts in early childhood including addition, subtraction, number bonds and ten frame work.
The bases can be placed side by side, under each other or stacked using the counters. The options are endless!
All pieces are made from FSC® Certified Beech Wood.
Wooden Sorting People
These gender-neutral figures are fantastic for helping children to improve their sorting, counting, sequencing and colour recognition skills.
An open-ended resource which is a must have for all educational environments that focus on learning through play!
Why not stand these colourful counters up and create your very own domino run?
Want to know more?
If you would like to see more products from Educational Advantage, take a look here or contact us to ask for more information!